Cedar Brook, NJ L4 Station
Located at intersection of NJ routes 73 and 561, about 2.5 miles north of Cedar Brook, NJ.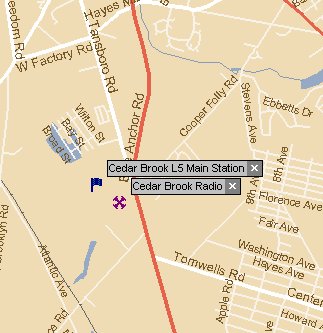 This station is still in use and was manned on the day of the visit. Numerous route markers are visible in the area, although none of them mention fiber optic cable. There are 2 stations here, one an aboveground microwave station on the Camden-Atlantic City route, and the other providing L4 junction services for the Camden, NJ and Philadelphia, PA areas. The underground L4 station has a large square tower as seen in the photographs. The site has a gamma ray detector and 3 pressure sensors. It is also notable for the pyramidal covers over the ventilation shafts. The next stations from Cedar Brook are, to the north, Netcong, NJ, and to the south, Finksburg, MD.
Home| |
This thumbnail page was generated by the evaluation version of ThumbsPlus
Photos taken 7/29/00
©2003 Michael W. Jacobs. Commercial use prohibited without permission.