Finland, PA L4/L5 Main Station
Located on Old Plains Road 2.5 mi S of PA Route 663
AT&T Long Lines Station with both hardened underground L5 coaxial cable terminal building and aboveground TD/TH microwave tower. The large aboveground building was intended to be the location of a 4ESS toll switch, but it was never installed. Currently an American Tower site with PCS and cellular tenants. An active marked AT&T fiber cable route passes north-south, apparantly following the route of the FNLD-FTWS cable into the Philadelphia area. This cable appears to originate at the Lanark POP, about 15 miles north of Finland. As of June 1, 2000, the AT&T sign on the aboveground building had been removed. It appears that AT&T no longer has any presence at this site beyond maintaining the cable rights of way.
L5 Cables
FNLD-ELDR Finland-Elderton, PA cable goes west from here, ultimately to Lillyville, PA and beyond to Hillsboro, MO.
FNLD-CHVL Finland-Cherryville, NJ cable goes east from here, ultimately to New York City.
FNLD-FTWS Finland-Fort Washington, PA cable goes south from here, ultimately to Philadelphia.
Microwave Paths
Finland connects via microwave with Harrow, Topton, Geigertown, Lionville, and Wayne.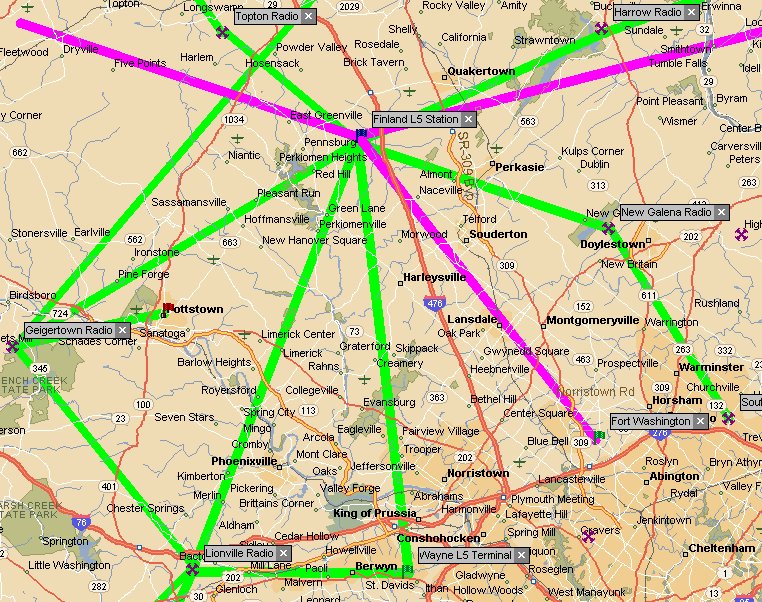 Green = Microwave Paths
Violet = L5 cables
Home| |
Notes on pictures:
1) attfinlajpg, DSC00001, 00002, 00004, show entrance to underground building locates under parking lot.
2) DSC00003 shows a gamma ray detector used as part of a national nuclear detonation detection system. The site also has 3 of the mushroom type air blast wave detectors that triangulate the direction of arrival of the blast wave from a detonation.
3) DSC00005 shows a view down the ventilation shaft shown in DSC00001.
This thumbnail page was generated by the evaluation version of ThumbsPlus
DSC00001 through DSC00006 images taken June 1, 2000
©2000 Michael W. Jacobs Commercial use prohibited without permission.